Learning from the E-Bus Implementation & Operation Experiences in Sharm El Sheikh & Alexandria
From 6 to 20 November, COP27 hosted over 35,000 participants in the Egyptian coastal city of Sharm El Sheikh. Various Egyptian entities pooled their resources to purchase 140 Electric Buses, which were operated at COP by ACTA, a local joint venture between a private and public bus operator, Mwaslat Misr and Superjet respectively. On average, the COP27 transit network transported 83'000 passengers a day for a total of 1.5 million pa ssenger trips over the course of the conference.
Most notable for me was how everyday local commuters in Sharm El-Sheikh intermingled with delegates from all around the world for the most basic of daily experience: the daily commute to work. All experienced how functioning non fossil fuel based transit systems look like, making one of the key discussion points of solutions day[1] real for delegates.
COP27 was a case study in speedy implementation: From idea inception to buses running on ground 6 months passed. First, an expanded transit network for COP was designed (and re-designed) for E-Bus Operations. Second, a bus depot was electrified with charging infrastructure and connected with the electric grid. Buses were procured: 110 locally assembled MCV units (using a Dongfeng Chinese) and 30 imported Higer buses. A city's transit system was transformed in half a year.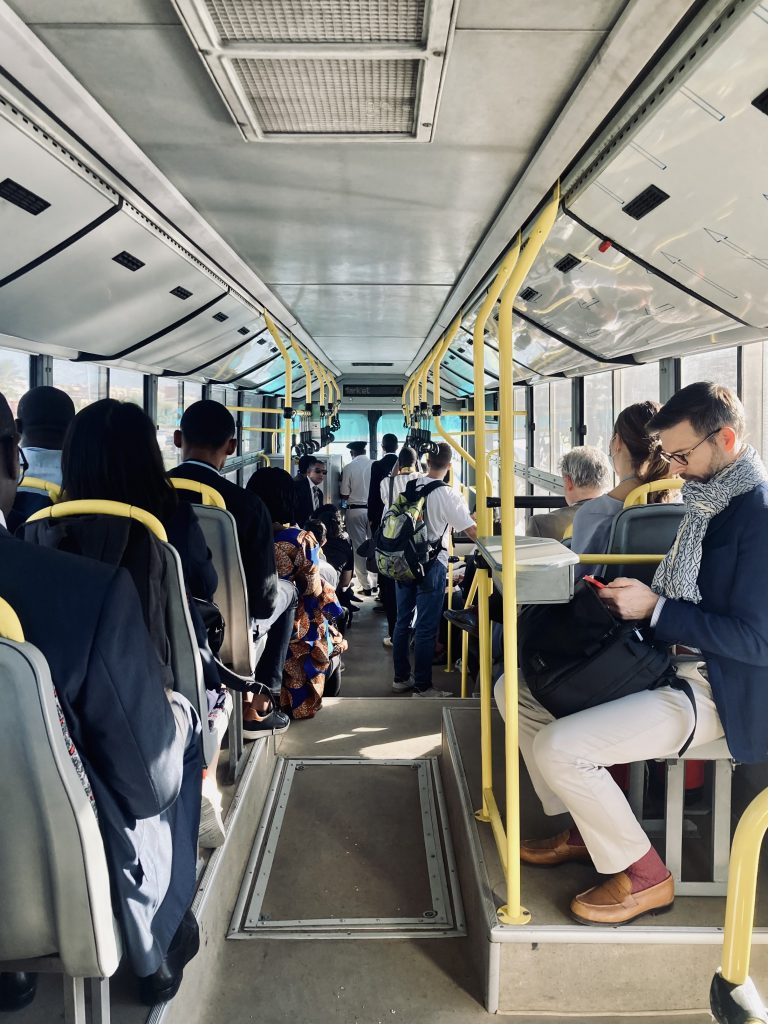 The Buses were procured by the Alexandria and Cairo Public Transport Authorities, APTA and CTA respectively. They were loaned to ACTA for COP27 and will now head to the cities of Alexandria and Cairo to start regular operations, as Sharm El-Sheikh reverts to its long-standing and effective popular Microbus based transit system.
Sharm's buses were not Egypt's first E-Buses. A few years earlier, Alexandria started a small-scale Electric Bus demonstration project. To reduce carbon emissions, APTA procured and currently operates 15 BYD electric buses.
Cairo comes next: CTA and Mwasalat Misr both trialed an electric bus, each. Today, two large scale projects are ongoing to increase the share of E-Buses:
The Cairo Ring Road BRT, which is under construction, will rely on 100 locally manufactured MCV BRT-spec E-Buses.

The CTA is looking to implement up to 100 E-Buses within its fleet.
The latter project is particularly interesting: It was launched by the Egyptian Ministry of Environment using financing from the World Bank. It's aim goes beyond the initial 100 E-Buses and includes a national scale up strategy. The End goal: A fully electrified bus transit network like Sharm El-Sheikh during COP27. Unlike Sharm, this network would be all year long and serving Africa's largest megacity, home to 25 million residents.
We talked with the operators of Sharm El-Sheikh and Alexandria and derived Egypt's top three lessons from the ground:
1.          The 'human factor' is the main determinant of success: Implementation strategies need to be working centric.
APTA, the operator in Alexandria trained existing drivers, sending white collar engineers to receive training in China and receiving trainers from China to train local maintenance workers and charging technicians. It redesigned systems for local circumstances. Traditionally, fare collectors sell paper tickets. For the E-Buses, APTA engineered a basic, but effective payment system: it outfitted fare collectors with Point-of-sale terminals with collectors identifying distances and assisting passengers. Data is aggregated centrally and labor fears of displacement we're alleviated.
ACTA, the operator in Sharm El-Sheikh, hired five hundred drivers and two hundred maintenance staffers and technicians and trained all of them on the specificities of E-Bus Operations.
2.          Involving stakeholders early and deeply unlocks new avenues for success.
APTA, the operator in Alexandria took out a loan from the National Investment Bank (NIB) of Egypt to fund the pilot, a source of domestic financing reliant on postal office and local bank savings. Local domestic finance removed the exchange rate risk and ensured low, publicly backed, credit rates. A warranty for the battery as well as an end-of-life clause requiring BYD to manage safe disposal of battery removed key technical risks that were new to the operator as it transitioned slowly to electric bus operations.
The COP27 transit E-Buses relied on the cooperation of many different entities across the Egyptian state: The Ministry of Transport led the charge through its executive Roads Authority, GARBLT. The Buses we're procured by APTA and CTA, coordinated each by the Alexandria and Cairo governorates where the operators are administratively housed. Egypt's biggest Electric Engineering contractors worked with local Bus OEMs and Utilities to procure and implement the buses and charging infra, maximizing local inputs and supporting local industry. The traffic department worked with ACTA to ensure smooth operations and minimize E-Bus deviations at COP27 to respect the range boundaries.
3.           Passengers and drivers love E-Buses.
Both APTA and ACTA invited its most senior, experienced, and skilled staff to take E-Bus trainings and operate the E-Buses as a form of workplace benefit: lower noise, cleaner exhaust and happier passengers.
E-Bus implementations are an engineering challenge. Scaling them up requires aligning the different – and sometimes competing – interests of many stakeholders. Financing them is becoming easier each day, as battery costs continue to drive lower and fuel expenses rise, making them more attractive vis-à-vis ICE buses. Ultimately, the Alexandria and Sharm El-Sheikh experience shared one thing: a pro-active will to implement. And on we go.
Disclaimer: The author is a member of the consortium implementing the 100 E-Buses for CTA on behalf of the MoE using WB financing. The consortium consists of SETEC ITS, Shaker and Transport for Cairo. 
[1] For more info see the excellent UITP recording of E-Bus related activities at COP