Public Transport and the age of Social Distance
Normally transportation agencies in megacities around the world work hard at fulfilling the demand of millions of people everyday for transportation to and from their schools, homes, places of business, etc. The coronavirus pandemic has turned this simple yet essential part of city life on its head.
We spoke with Ahmed Ellaithy, Chief Operations Officer at Mwasalt Misr about what the pandemic has meant for Mwasalat Masr in light of the economic challenges transport operators are facings and and how they are dealing with the rise of the new safety regulations.
Mass transit is facing a new kind of economic challenge
Ahmed Ellaithy told us that in the last 3 months the absolute number of passengers fell by 80% and there was 40% drop in passengers per trip. This means that for every 10 people who used to take transit only 2 are still using it, and per trip for every 10 people who used to take a bus line, 6 are still using it. Cairo isn't the only city that has seen an 80% decline, recent data from the US has show a similar fall in ridership.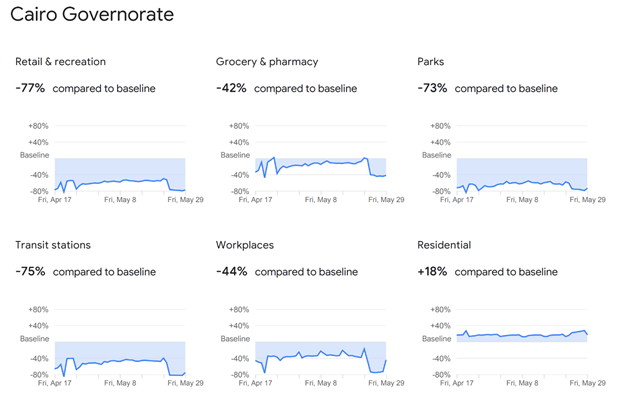 In Cairo Governorate, mobility trends for places like restaurants, cafes, markets, beaches and parks have declined significantly. Mobility trends for the month of May show public transport hubs such as subways, buses and train stations decline 75% compared to the baseline according to Google's COVID-19 Mobility Report.
Even with prevention measures, demand fall is inescapable and will mean revenue streams drying up due to social distancing recommendation.  The risk is that even when the lockdown dissipates transit will enter a cycle of lost revenue, followed by service cuts and more demand loss. Capacity has also changed significantly, for Mwasalat Misr trips were cut down to 60% of what they used to be serviced by 50% of the buses in the fleet. They also had to let go of a chunk of its employees to accommodate the demand loss.
But for the time being, cutting services will make transit networks much less useful to people who still ride them everyday; people who were not given months off, people whose jobs cannot be done from home, and people who are on the front line working in hospitals and supermarkets. If ridership doesn't bounce back even when restrictions on activity fade away a collapsed ridership will mean agencies won't have the revenue to restore service. Unless the government steps in and subsidizes part of the costs.
Bus Operators including Mwasalat Misr are based on a concession model in which private companies are commissioned to operate certain corridors in exchange of an operating license cost of 8000EGP for every vehicle operating the line. These costs demanded by The Cairo Transit Authority have always been a cause for objection by a collective of private bus operators for the incremental increases in charges in recent years. Recently the collective has sent another memorandum to several designated authorities and to the prime minister asking for a complete exemption from it for the time being citing the catastrophic fall in demand since the lockdown started, along with a subsidy similar to the one provided to the aviation and tourism industry. In the UK for example, many private bus operating firms have been pleasantly surprised by £400m in bailouts to keep the privately owned franchise operators on board and to avoid "things stop running"
Post Pandemic world
Public transit has always had the challenge of selling itself as a good choice and not a last resort when driving is unavailable, but with people seeing the danger of being in a public confined space, how is that trust going to be regained?
Keolis; one of the biggest operators of public transit in the world has reported that "people look at public transit as one a step above night clubs in terms of safe places to be at the moment". This highlights not only the fear of taking a bus, but the challenge transit companies are going to have to deal with to regain the status.
Despite this, some have claimed that a post pandemic world will have better transit systems. Mohamed Mezghani Secretary General of UITP1 has said that "Despite the challenges, this crisis is coming with many opportunities. New practices in terms of cleaning and disinfection are here to stay. This will make public transport more attractive and safer to travel in… Digitalization will be deployed at faster pace, including apps to assist travelers plan their journeys, contactless ticketing, intelligent maintenance and operations"
Mwasalat Misr has indicated that they are working to increase contactless ticketing via their pay card. Ahmed Ellaithy told us that "Before the pandemic around 40% of customers used our card, this figure hasn't changed despite the pandemic. By the end of 2020 regardless of numbers of customer, we expect this figure to increase to 60% customers using cashless transactions."
Finally, ensuring that the environment is visibly clean to the passengers, encouraging everyone to wear masks, being conscious of social distancing and working toward satisfying customers, will require all stakeholders of public transportation to work harmoniously to ensure that the network of public transportation continuous to work for everyone.
1 The International Association of Public Transport is a non-profit advocacy organization for public transport authorities and operators, policy decision-makers, scientific institutes and the public transport supply and service industry located in Brussels and operates worldwide.