We work on making Passenger Information available and accessible  for all people to encourage them to use different mobility modes. Passenger Information Systems (PIS) can be reflected in Transit Maps, Signage and Wayfinding Systems. 
Are you tired of waiting in traffic? Do you want to save time and money and leave your car behind? Do you want to start using public transportation but don't know how? Are you operating a bus company and want to attract more commuters? Are you a developer who is working on transportation infrastructure and want to make it accessibile to more people when it is launched?
If the answer to any of these questions is a yes, then the first thing that is needed is available and accessible data! To be able to change a commuting behavior, you need to have sufficient data that allows people to understand the dynamics of the mobility system. 
One of the oldest and most efficient means to achieve this, is to have access to adequate Passenger Information presented through transit maps, wayfinding and signage! PIS help you identify the coverage of the network, the places you can reach, the modes and routes you need to take to arrive at your preferred destination, as well as how to use and navigate within this complex system.
Transit maps are a diagrammatic representation of the public transportation network in reality. They illustrate routes and stations of various transit modes, highlighting the interchange opportunities within the system. Unlike conventional geographic maps, they usually don't represent the real scale and are more compact, using straight lines and easy to read angles. Symbols and color codes are the main language of transit maps, helping users to navigate easily. Modern transit maps are based on a century-old design by Harry Beck for the London underground. Since then, modern techniques have enhanced and developed the transit map to solve unique challenges in diverse transportation networks around the globe.
So what is our role in all this?
Getting around mega cities like Cairo can be a challenge, especially with no reliable data out there. This is why, Transport for Cairo is working on making transit data available to everyone. Besides the digital mapping, we work on creating various Transit Maps, Signage and Wayfinding Systems that help people navigate through the different transportation systems.
We worked on several Passenger Information projects with different scopes, be it to represent the diverse and complex multi-modal public transit system in Cairo, to illustrate the network of a private bus or rail operator or to experimentally work with students to incorporate the idea of transit data into the minds of the future generation.
The static transit maps can be used to address many customer needs. It is beneficial to include a map of the entire network on the inside walls of buses or other transit modes  in the network. This map shows customers how to benefit from the system as a whole and not just the one route they are on. It can also show them where to transfer to reach a stop that is closest to their final destination.
If the transit map  is given out or sold in a printed, folded and compacted version, it can show potential customers the benefits of using the system as a whole. Imagine looking at a way to get to the train station: Taking a quick glance at the pocket map will tell you which buses will connect your starting point to Ramses train station. In addition to that, it can also act as a marketing or branding tool for transit operator companies.
Finally, these maps can be accessed online by a much wider, potentially international audience. We routinely get inquiries online from tourists about where to start using the local transportation system and their search is limited to the internet. Having a publicly accessible map will encourage everyone who is unfamiliar with the public spaces in Cairo to take their first step in the local public transportation system.
Error embedding FlippingBook shortcode, please check the flipbook url. (https://online.flippingbook.com/view/560614876/)
Modern Rail System - Egypt
Official Capital Train Maps 2022
Official Cairo Metro Map 2022
Information Maps
Ticket and Subscription Maps for Green Line 3 Metro Stations
Official Neighborhood Maps
of Green Line 3 Metro and Capital Train Stations
6th of October Transit Map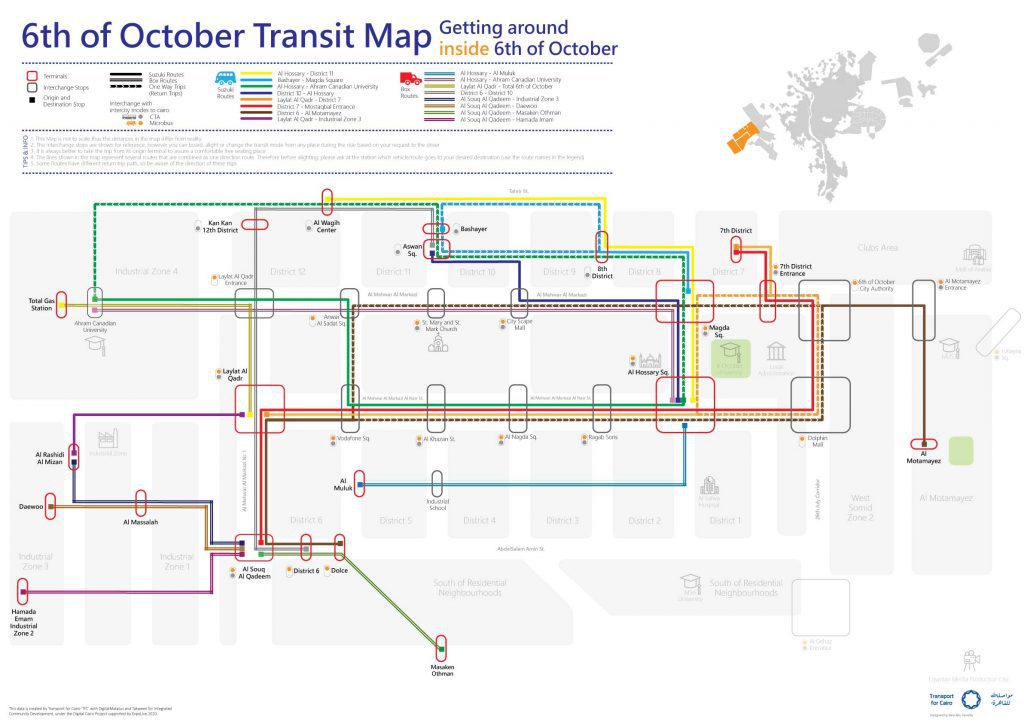 After years of mapping, research and intensive work, we finally managed to produce the first transit map of a city in Cairo! Traditionally, a map (in any place around the world)  includes the network of one mode of transport: metro, bus, or commuter rail. Our map prototype, however, is combining several modes into one integrated map that can serve as the go-to solution for commuters on a daily basis.It also includes formal as well as informal transit modes, and thus it is one of the first of its kind. We want to proudly present to you, the first transit map ever created for 6th of October City, Cairo.
We are also proudly presenting to you  the transit map we created for our highly valued client Mwaslat Misr. This transit map illustrates their internal bus routes of New Cairo City (November 2020). We designed one for each New Urban Community and one map for the Greater Cairo Region, illustrating their intercity routes.
Experimental Transit Maps
As a start to introduce the idea of transit maps in Cairo, we began with organizing, in cooperation with Desert City Mappers, a three-day workshop with the title "Transit Map Design". Students from all over the city participated in designing experimental transit maps of several bus lines in Cairo with the support and guidance of the organizers. The outcomes of this workshop were three transit maps representing real-life data released by TfC. All three maps show the same data but with different and diverse design languages.